Goa has a lot more to offer than beach parties and lively nightlife! Let's stray off the beaten path! Forget the postcard beaches for a moment. Imagine wandering through Goa's forgotten hinterlands – the scent of salt and earth mingling in the air, far from the crowded places.
Here, romance isn't just in the sunset views! It's in the shared thrill of discovering a hidden spice farm, the warmth of the afternoon sun and so much more!
Getting around in Goa is hassle-free! You may take a bus or a scooter. If you want more comfort you can take cars for rent in Goa! Goa isn't just about travelling together; it's about weaving stories that no guidebook offers. Isn't that what a true romantic escape is about? Unscripted moments filled with laughter and joy.
Best Romantic Places to visit in Goa 
Goa, a blend of natural beauty and cultural richness, offers romantic spots beyond its famous beaches. Here are the places where love blends with scenic charm.
Dudhsagar Waterfalls
This waterfall is situated in Goa's lush greenery. Cascading from a height, it paints a picture of milky white streams, offering a spectacular view for visiting couples. Hiking along the romantic trail, surrounded by the forest's embrace, adds a sense of thrill and intimacy to the experience.
Reaching Dudhsagar is part of the adventure. Couples can opt for taxis for a comfortable ride right to the trek's starting point. For those looking for a more local experience, buses are available, though less direct. Renting scooters offers flexibility and the joy of a scenic drive through Goa's hinterlands. You can also get cars on rent in Goa!
Divar Island
When you're thinking of Goa, the usual image is of beach parties and bustling crowds. But Divar Island breaks that stereotype. Nestled away from the constant buzz, this island is a haven of peace.
Picture the scene: you're on a simple ferry, moving towards an island that feels like a step back in time. It's serene and incredibly romantic. The journey itself is a beautiful start, sailing away from the mundane to a quiet spot where you and your loved one can enjoy some real quality time.
Spice Plantations
Forget the beach for a moment and imagine wandering through lush greenery, filled with the scents of spices. Goa's spice plantations are not your typical romantic spot, but they offer a unique twist.
Here, amidst the aroma of fresh spices, you can take a leisurely walk with your partner, feeling every stress of daily life melt away. Enjoy a meal amidst the plantation, with dishes flavoured with spices you just walked amongst. It's romantic in an offbeat, memorable way – perfect for couples who enjoy trying something new together.
Fort Aguada
This well-preserved seventeenth-century fort offers a breathtaking view of the Arabian Sea! The historical vibe, coupled with the panoramic ocean view, sets a memorable scene for couples. As the sun dips, painting the sky in hues of orange and pink, there's no place more romantic for that perfect sunset selfie.
Fort Aguada is easily accessible. Situated close to the popular Candolim Beach, it's a short drive away for those staying in nearby resorts. Taxis are readily available for those looking for a hassle-free trip. Rent a scooter to explore the area at one's own pace. Local buses also service the route, ideal for those looking to immerse in the local atmosphere. For people looking for more comfort, you may also rent a vehicle in Goa!
Butterfly Beach
For those who love finding hidden gems, Butterfly Beach is the best place. Secluded, serene, and stunning, it's the perfect backdrop for romance. It's not easy to get to, which means you're likely to have this beautiful spot all to yourselves.
Picture a soft, sandy beach, clear waters, and just the sound of waves and nature around. You can amp up the romance with a boat ride, ideally timed during sunset, giving you a view of dolphins playfully swimming in the golden-hued sea. It's these quiet, unspoiled moments that truly define romantic experiences.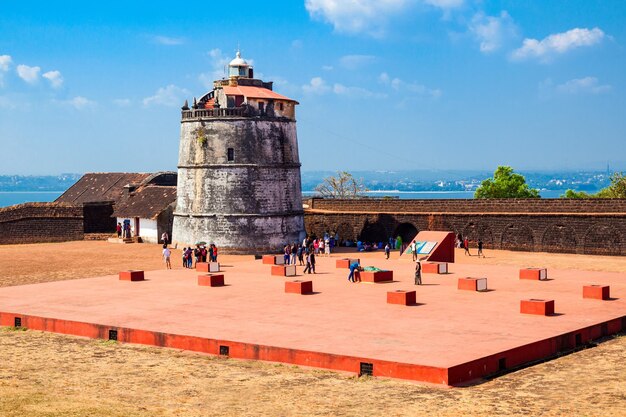 Chapora Fort
Popularized by the Indian film 'Dil Chahta Hai,' Chapora Fort is a favourite among young couples. This ancient fort offers a panoramic view of the Arabian Sea. The view from here, especially at dusk, is nothing short of magical, with the sea turning into a canvas of changing hues.
The ideal time to visit Chapora Fort is late afternoon, allowing visitors to witness the sunset.
Easily reachable from Vagator Beach, the fort is accessible by different modes of transport. Taxis provide a direct and comfortable journey.
For those who prefer the open road, scooters can be rented, offering a sense of freedom and romance as you ride. Buses are a budget-friendly option, although they might not go all the way to the fort, adding a short walk to your journey.
Church of Mae De Deus
Do you love cool old buildings and quiet spots? If yes then you'll love the Church of Mae De Deus in Goa. This isn't your everyday church. With its spiky towers and fancy trim, it's straight out of a storybook. The whole place looks like it's from another time – really old but really beautiful.
Tucked away from all the noise, it's where you can relax and be at ease. It's that kind of quiet where you can actually hear yourself think. It is perfect for taking a break with your special someone, right?
If you're looking to snap those dreamy, Insta-worthy pictures, this is your spot. The church, with its old-school charm against the clear blue sky, makes every photo pop. Grab your partner, get those cute photos, and add a dash of old-time romance to your trip!
Conclusion
Thinking of exploring every hidden corner of Goa and making unforgettable memories? More and more travellers are opting for cars for rent in Goato discover this vibrant place at their own pace. Why wait for buses or pay hefty cab fares when you can drive through stunning landscapes and hidden beaches on your terms? It's the freedom to create your own adventure.
If you want to rent a car in Goa choose Self Drive Goa! We provide the best and most trusted self-drive car rental service in Goa. Imagine landing at the Manohar International Airport aka Mopa Airport in North Goa and having a reliable, punctual car waiting just for you. From the moment you arrive, till the last minute of your stay, we're here to make sure you have the best time without any travel hassles. Book with us and take the driver's seat in your Goa adventure!
Disclaimer- The information provided in this content is just for educational purposes and is written by a professional writer. Consult us to learn more about the most romantic places in Goa.